Striving for Excellence through the Quest for Knowledge
2022-2023 BAKER HIGH SCHOOL REGISTRATION INFORMATION
MCPSS online registration must be completed before uploading proofs/documents and attending in-person registration. Complete online registration here!
DOCUMENTS: Two proofs of residence and a photo ID must be scanned into the system for all NEW STUDENTS to Baker High School, as well as for those students whose addresses have changed.
Registration Fee: $30
Parking Fee: $75
(Parking permits are for 11th and 12th graders ONLY! 10th graders are not allowed to park on school property due to limited space. Paperwork must be turned in before permit is issued.
You will need the following Forms and documents for a Parking Permit:
Complete

Parking Permit Google form HERE

Fee of $75
Bring Proof of insurance
Vehicle Registration
Current Driver's License
Current School Schedule
Yearbook: $85
Senior Fees: Senior Class & Graduation Information
Tshirts ($20) and Pullovers ($40) - We are preselling shirts and pullovers.
All fees are payable through EFunds. Please click the link below to pay fees online:
https://payments.efundsforschools.com/v3/districts/56043
NEED HELP with ONLINE PAYMENTS? CLICK HERE FOR DIRECTIONS
July 18th
A-L 8:00 am - 12:00 pm
M-Z 1:30 pm - 4:00 pm
July 19th
A-L 8:00 am - 12:00 pm
M-Z 1:30 pm - 4:00 pm
July 21st
A-L 8:00 am - 12:00 pm
M-Z 1:30 pm - 4:00 pm
July 20th
Hornet Day
-Bring Registration Fee
NEW to Baker from within MCPSS (not including Causey)
Students currently in a MCPSS school but not in Baker's Feeder Pattern (Causey)
July 26th in cafeteria
8:00 am - 12:00 pm
NEW to Baker from outside of MCPSS
Please make sure your online registration is completed, once verified you will receive a link to set an appointment.
MORE INFORMATION HERE
These Baker t-shirts and outerwear are on sale now. The online store will close on Friday, July 22 at 11 p.m. for the first batch of orders to be printed. The store will reopen when school is back in session. All orders will be delivered to the school.
If alumni want to order, shipping or pick up is available.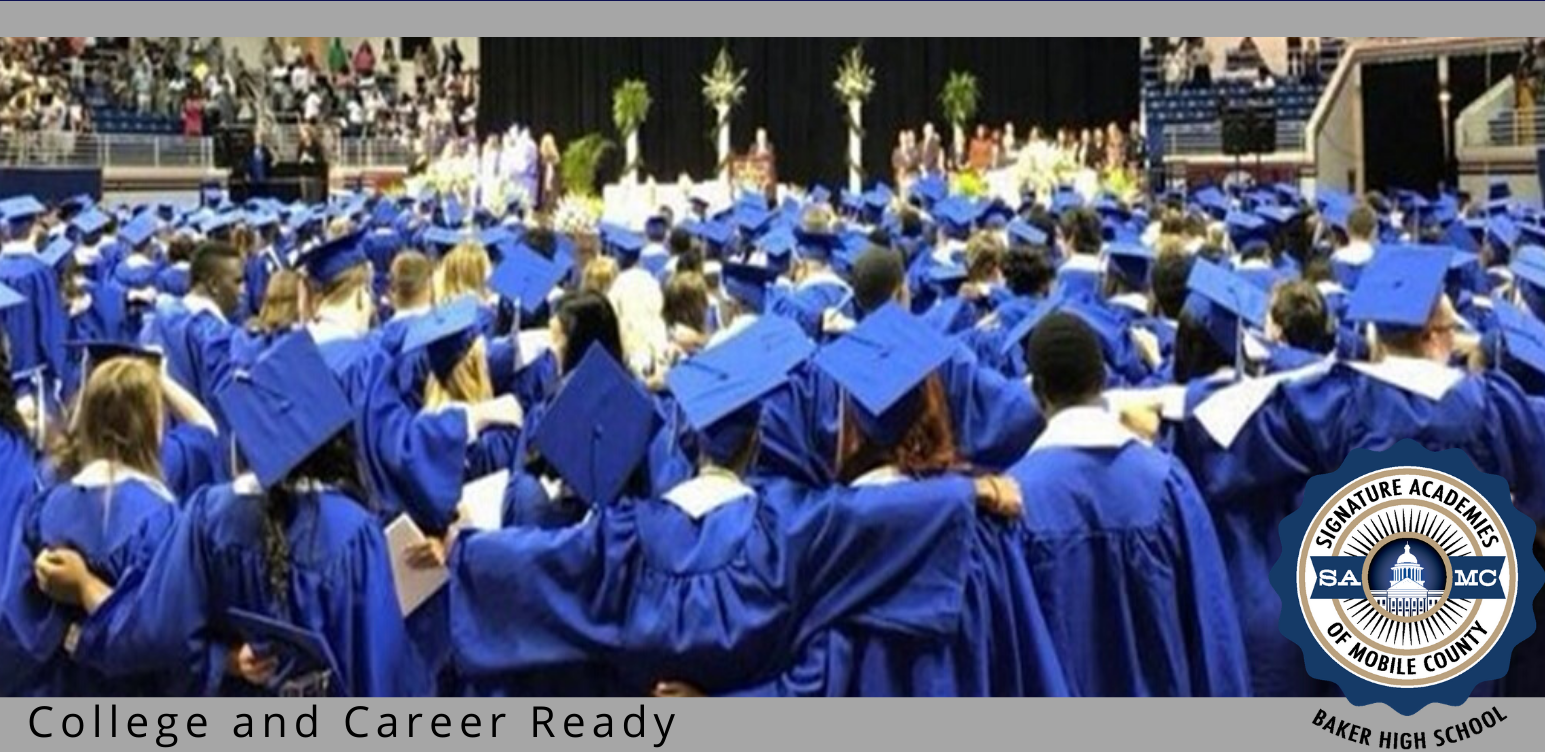 The Mission of Baker High School is to provide a safe, caring, environment in which students will become productive citizens, conscientious adults, and life-long learners.
The purpose of the Mobile County Public School System is to equip and empower college and career ready graduates.

The Advanced Placement Program (AP) enables willing and academically prepared students to pursue college-level studies while still in high school. The program consists of college-level courses developed by the AP Program that high schools can choose to offer and corresponding exams that are administered once a year. Baker High School had 21 Advanced Placement courses and houses the prestigious AP Capstone Diploma Program.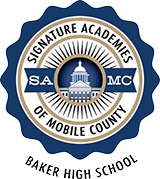 Advanced Placement Capstone- Signature Academy
Business Information Technology Academy (BIT)
Early Childhood Education Academy
Engineering Academy
Fine Arts, Media, and Entertainment Academy (FAME)
Health Sciences and Human Services Academy
Hospitality and Tourism Academy
Marine and Zoological, Environmental Sciences Academy (MAZES)
Transportation and Public Services Academy (TAPS)
Bryant Career Tech Center Academy