Advanced Placement Capstone- Signature Academy
Business Information Technology Academy (BIT)
Early Childhood Education Academy
Engineering Academy
Fine Arts, Media, and Entertainment Academy (FAME)
Health Sciences and Human Services Academy
Hospitality and Tourism Academy
Marine and Zoological, Environmental Sciences Academy (MAZES)
Transportation and Public Services Academy (TAPS)
Bryant Career Tech Center Academy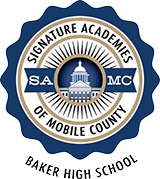 The Advanced Placement Program (AP) enables willing and academically prepared students to pursue college-level studies while still in high school. The program consists of college-level courses developed by the AP Program that high schools can choose to offer and corresponding exams that are administered once a year. Baker High School had 25 Advanced Placement courses and houses the prestigious AP Capstone Diploma Program.