Early Dismissals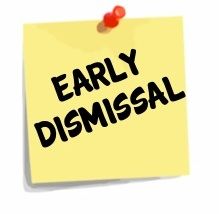 ---
Parents, Teachers, and Students,
Due to the high volume of email early dismissals, starting Tuesday, October 12, 2021, ALL students requiring an early dismissal should have a written note from their parent/guardian. NO emails will be accepted!
Students have from 7 AM to 9 AM to turn in their early dismissal notes.
Students in the main building should turn their notes into Mrs. Reed in the attendance office, and those students in the Annex should go to Mrs. Hatcher in room 504 to turn notes in.
Parents/Guardians are welcome to come into the school building and request an early dismissal until 2pm. NO phone calls and NO emails will be accepted.
REMEMBER, photo identification is always required.