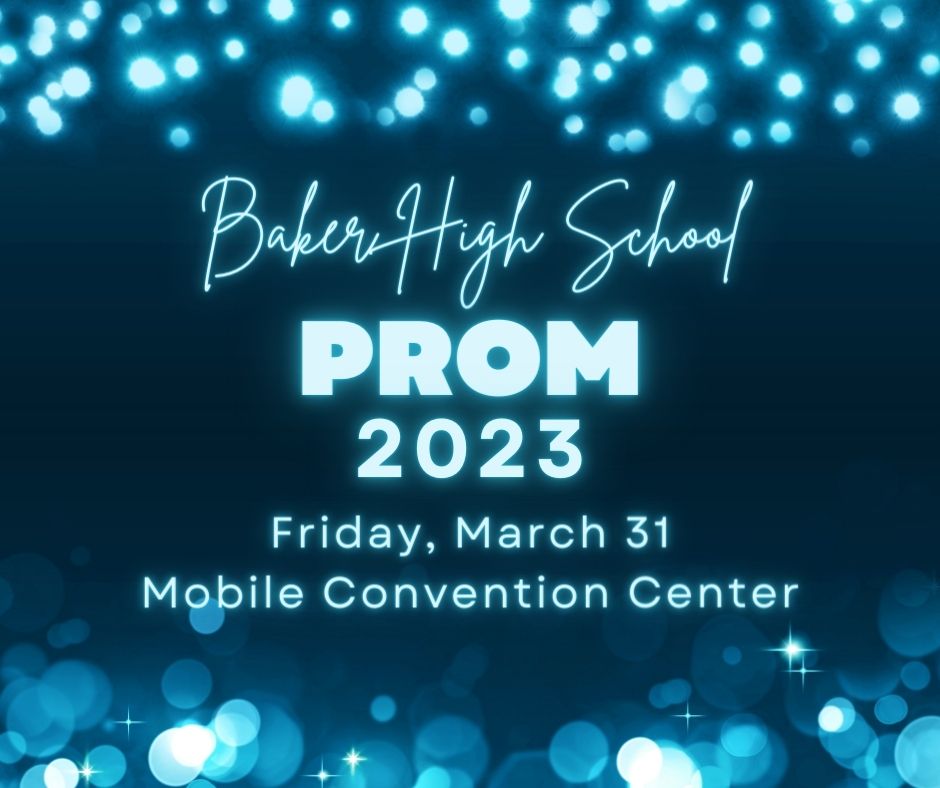 The Junior Senior Prom will be held Friday, March 31, 2023 from 8pm-11:30pm at the Mobile Convention Center. Students are expected to be in a full tuxedo, including jacket and shoes, or a dress that touches the floor.
The cost to attend Prom is $50. Students may pay this fee Feb 6-10 during their lunch wave at the rear entrance to the cafeteria. Students that pay during February will receive a Prom t-shirt that will be distributed the week of Prom. Students may also pay March 21-24 during their lunch wave but will not receive a t-shirt. March 24 will be the last day to pay the Prom fee.
The Baker Prom is only for current Baker juniors and seniors. Anyone that is not a current Baker junior or senior can only attend if a Baker junior or senior completes the required guest form and pays the fee. The Guest Fee is $30. The guest will only be allowed to enter Prom with the Baker student whose name was on the completed guest form. The guest fee can be paid at the same time the completed guest form is returned, Feb 6-10 or Mar 21 – 24. The last day to return a guest form and pay the guest fee will be Friday, Mar 24.
You can print the guest form or pick up a blank copy during the payment times.
Please notify Mrs. Armstrong (marmstrong@mcpss.com) or Mrs. Kilgore (lskilgore@mcpss.com) if you have any questions.