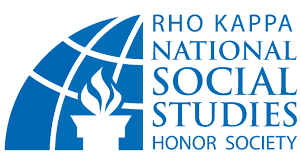 Welcome to the Baker High School Rho Kappa site!
RHO KAPPA Social Studies Honor Society is the only national organization for
high school juniors and seniors that recognizes excellence in the field of
Social Studies. Any accredited public high school or non-secondary school can
apply for a local chapter, through which individuals will be inducted into RHO
KAPPA Honor Society. RHO KAPPA provides national recognition and opportunities
for exploration in the social studies. NCSS hopes to encourage an interest in,
understanding of , and appreciation for the social studies through the
creation of RHO KAPPA.
Requirements for Membership
The following is a list of criteria that all Rho Kappa members must meet:
Have been in attendance at the school for at least one semester;
Have completed two core social studies courses and be prepared to complete at least three courses;
Have an overall cumulative GPA of 3.00 or the numerical equivalent;
Have participated in activities that demonstrate civic engagement in their school or community;
Provide a letter of recommendation; and
Desire to be a member of Rho Kappa.
National History Day Resources
Upcoming Events and Due Dates
Tuesday, Jan. 14th
Tuesday, Feb. 18th
Tuesday, March 17th
Tuesday, April 14th
Tuesday, May 5th
Note: All Officer's Meetings will be held in Rice's Room
Wednesday, Jan 15th
Wednesday, Feb. 19th
Wednesday, March 18th
Wednesday, April 16th
Wednesday, May 6th
Note: All Chapter meetings will be held in the Library
National History Day Dates & Deadlines
Project Check Point 1: Due by Wednesday, Jan. 15th- Please have 10 to 15 annotated sources for your project ready to submit to Mr. Rice & Mrs. Hinds at the Chapter meeting.
Mobile County NHD: Friday, March 20th (Site & Time: TBD)
State NHD: Friday, April 17th (Auburn University at Montgomery)
National History Day: June 14th-18th (University of Maryland, College Park)
If you would like more info about Rho Kappa or have a general question, please you the form below to submit your info.